Das Open Source Geospatial Research and Education Symposium (OGRS) fand vom 24. – 26. Oktober 2012 in Yverdon-les-Bains statt. Die dreitägige Veranstaltung gliederte sich in einen Workshoptag und zwei Tage, die mit Keynote-Vorträgen, parallelen Vortragssitzungen und Diskussionsgruppen gefüllt waren, ergänzt von sozialen Treffen. In diesem Beitrag wird der dritte Tag zusammengefasst.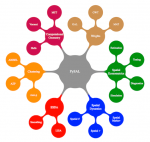 Der dritte Tag begann mit der Keynote Open von Sergio Rey "Source spatial analysis: lessons for research and education from PySAL". Er versuchte, Gemeinsamkeiten des akademischen Lebens mit der Open Source-Softwareentwicklung aufzuzeigen: Peer review, "Standing on the shoulder of giants", Gemeinschaften, bestimmte kulturelle Gepflogenheiten. Andererseits hätten manche Open Source-Protagonisten wie Richard Stallman und Linus Torvald die Hochschulen verlassen. Denkenswert war der von Sergio zitierte Ausspruch von Abraham Lincoln: "The best way to predict your future is to create it.". Somit legit es an uns, in Lehre und Forschung die Zukunft in Hinblick auf Open Source und Open Data zu gestalten.
Eine anschließende Sitzung umfasste die Vorträge "Open source software for Big Data : Experiences in indexing and browsing geo-archival records" (Jefferson Robert Heard, RENCI, UNC Chapel Hill, United States) sowie "Physical Landscape of Britain and Northern Ireland: technical development" (Claudio Piccinini, picci2001@yhoo.it / twitter:@piccicia). Claudio stellte sowohl das Datenmodell als auch die mit OpenLayers und ExtJS sehr schön gestaltete Webanwendung vor.
In der Parallelsitzung wurden "An open tool to register landscape oblique images and generate their synthetic model" (Timothee Produit, Ecole Polytechnique Fédérale de Lausanne) und "Open tools and methods for large scale segmentation of Very High Resolution satellite images" (Julien Michel, CNES, France) präsentiert.
Nach der Kaffeepause ging es weiter mit dem interessanten Beitrag "Using GRASS and PostgreSQL/PostGIS for the development of the automatic preprocessing for a distributed vector-based hydrological model" (Sonja Jankowfsky , IRSTEA, UR HHLY, 69336 Lyon). "An open and powerful GIS data discovery engine" (Martin Ouellet, Library, Université Laval Québec, QC Canada ) sowie "Ontology Based Domain Specific Search of Crowdsourced OpenStreetMap Dataset and Wiki", präsentiert von Stefan Keller (http://wiki.hsr.ch/StefanKeller/wiki.cgi?StefanKeller), der u. A. auf OGC's skos-Standard hinwies. Die Applikation steht unter http://www.openpoimap.ch im Internet zur Verfügung.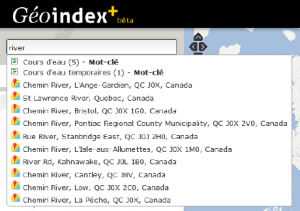 Martin Ouellets Präsentation zeigte sehr anschaulich, wie Karten und Geodatenbestände einer Bibliothek dem Nutzer unter Nutzung von Thesauri und Geokodierung von Ortsnamen (auch unter Berücksichtigung der Mehrsprachigkeit) verfügbar gemacht werden können. Für die Metadaten wird GeoNetwork Open Source verwendet
Die Parallelsitzung umfasste folgende Vorträge: "Utilization of the Scythe C++ open source library for statistical geocomputation in livestock landscape genomics" (Sylvie Stucki, EPFL Lausanne), "MCDA-GIS integration: an application in GRASS GIS 6.4" (Gianluca Massei, University of Perugia, Italy) sowie "How to make R, PostGIS and QGis cooperate for statistical modelling duties: a case study on hedonic regressions" (Olivier Bonin, Université Paris Est – IFSTTAR – LVMT, France).
Nach der Mittagspause gab Robert Weibel, Professor of Geographical Information Science at Department of Geography, University of Zürich, seine Keynote über "How open source can help achieving sustainability of e-learning content: The GITTA experience". Er stellte die grundlegende Struktur der Lerninhalte der Plattform dar (http://www.gitta.info/). Als Auszeichnungssprache für die Inhalte kommt eLML zum Einsatz (http://www.elml.org/website/en/html/index.html). Die Visualisierung wird mittels XSLT erzeugt.
Danach folgten die Präsentation "Toward a coupling between GIS and agent simulation. USM : an OrbisGIS extension to model urban evolution at a large scale" (Frederic Rousseaux, UMR LIENSS – ULR/CNRS, France), "Using open-source tools for the simulation of urban transportation systems" (Quoc Tuan Nguyen, L3I laboratory – University of La Rochelle, France, http://l3i.univ-larochelle.fr/?lang=en), sowie in der Parallelsitzung "GeoPeuple project: using RESTful Web API to diffuse geohistorical database as open data" (Eric Grosso, IGN – French Mapping Agency, France, http://www.ign.fr/) und "An opensource tool to build urban noise maps in a GIS" (Nicolas Fortin, IRSTV FR CNRS 2488 Atelier SIG, France). Bei GeoPeuple (http://geopeuple.ign.fr/) kommen PostGIS sowie Java und das Spring Framework zum Einsatz.
In der Abschlusssitzung wurden die Ergebnisse der Diskussionsrunden zusammengetragen. Olivier Ertz gab einen abschließende Zusammenfassung, in der als Tagungsort für OGRS 2014 Helsinki (Finnland) oder Perugia (Italien) angekündigt wurden. Damit ging eine Tagung zu Ende, der man eine kontinuierliche Fortsetzung wünschen möchte. Ebenfalls wünschen möchte man sich mehr Teilnehmer aus dem deutschsprachigen Bereich.